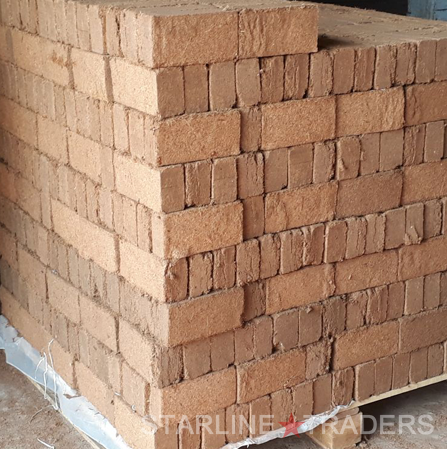 Product Description
Coco Peat Brick also known as coir pith or Coir dust it's manufactured from coconut husks. Coco peat primarily contain coir fiber pith or coir dust which is processing coconut husk and removing lengthy fibers.

In Starline Traders, our coco peat bricks are low in EC and very low salt content. Our Coco peat bricks can be expanded upto 8 litters by adding 2 litters of water.

Usage:
+ Our 650g Coco Peat brick is environmentally-friendly & organic alternative to peat moss.

+ Can be used in greenhouses, gardens, landscaping and grow bags

+ Best growing medium, blended with clay pellets, perlite or even topsoil.

+ Perfect for all types of plants including fruits, flowers, vegetables, bonsai, mushrooms and hydroponics.
Technical Specifications:
Product : Coco Coir 650 grams blocks

Compression Ratio : 8 : 1
Expansion Volume : 9-11 liter (100% moisture)
Weight : 650 gm. (+ / – 50g.)
Size : 20 x 10 x 5 cm
E.C : Below 0.50 m S / cm
PH : 6.5 – 7.5
Moisture Below : 20% .
DRYING : 100% SUN DRIED
Seived : 6mm / 4mm / 8mm seived
Packing:
Packing Type(1) :
2100 pieces are stacked onto a pallet. Pallets are wrapped with stretch polyvinyl film
Loading : 20 pallets can be loaded into a 40 feet GP container. 27.3 mt / 40 ft.GP
Packing Type(2) :
Individually shrink wrapped briquettes with 4 color labels. 24 briquettes /Carton
Palletize Loading : 72 cartons /pallet 10 pallets / 20 ft Container 20 pallets/40 ft. container
Unpalletize Loading : 950 cartons per 20 ft Container 1900 cartons per 40 ft Container
Contact Us
11/389, S1, Bharathi Nagar 1st Street, Vengaivasal, Chennai, Tamil Nadu, 600126, India
Phone :+918061881398